Pablo Picasso Paintings, 50 Best Works of Art
Pablo Picasso Paintings can touch you to your core and Pablo Picasso is arguable the most famous artist ever. I recently visited his exhibit at the MoMA and was inspired to finish this post. Below is a collection of paintings and sculptures that I think are amazing. We have started an Art series on SpreadLove.org because we believe that art helps you connect to your soul. The more time you spend connected to your soul, the more you will learn about yourself and connect with others. Pablo Picasso was a master painter and his paintings can be used as a source of design and creative inspiration. I hope you enjoy them and if you do leave me a comment and let me know. Other than that have a very wonderful day and thanks for stopping by.
Pablo Picasso Paintings
Born October 25, 1881 – Died April 8, 1973.
"Everyone wants to understand art. Why don't we try to understand the song of a bird? Why do we love the night, the flowers, everything around us, without trying to understand them? But in the case of a painting, people think they have to understand. If only they would realize above all that an artist works of necessity, that he himself is only an insignificant part of the world, and that no more importance should be attached to him than to plenty of other things which please us in the world though we can't explain them; people who try to explain pictures are usually barking up the wrong tree."
1.Pablo Picasso Painting, Blue Nude 1902
2.Pablo Picasso Le Moulin de la Galette 1900
3.Pablo Picasso Painting, The End of the Road 1898-99
4.Pablo Picasso La Vie 1903
5.Pablo Picasso Paintings , The Old Guitarist 1903
6.Pablo Picasso Woman with a Crow 1904
7. Pablo Picasso Paintings, Family at Saltimbanques 1905
8.Pablo Picasso Gertrude Stein 1905-06
9. Pablo Picasso Painting, Two Nudes 1906
10.Pablo Picasso Les Demoiselles dAvignon 1907
11.Pablo Picasso Paintings,  Three Women 1907-08
12.Pablo Picasso  Bread and Fruit Dish on a Table 1909
13.Pablo Picasso-Houses on the Hill Horta de Ebro 1909
14. Pablo Picasso – Woman's Head Fernande sculpture 1909
15. Pablo Picasso – Girl with Mandolin Fanny Tellier 1910
16.Pablo Picasso- Portrait of Daniel Henry Kahnweiler 1910
17.Pablo Picasso – Accordionist 1911
18.Pablo Picasso Painting – Still Life with Chair Caning 1911-12
19.Pablo Picasso – Maquette for Guitar 1912
20.Pablo Picasso – Mandolin and Clarinet 1913
21.Pablo Picasso Painting – Card Player 1913-14
22.Pablo Picasso – Still Life 1914
23. Pablo Picasso Painting – Green Still Life 1914
24. Pablo Picasso Painting – Glass of Absinthe 1914
25.Pablo Picasso Painting – Ambroise Vollard 1915
26.PabloPicasso – The American Manager 1917
27.PabloPicasso – Harlequin with Violin Si tu veux 1918
28.PabloPicasso – By- the Sea 1920
29. Pablo Picasso Paintings – Portrait of Igor Stravinsky 1920
30.Pablo Picasso – Nessus and Dejanira 1920
31.Pablo Picasso Three Women at the Spring 1921
32.Pablo Picasso – Three Musicians 1921
33.Pablo Picasso – Two Women Running on the Beach The Race 1922
34.Pablo Picasso – The Pipes of Pan 1923
35.Pablo Picasso – Mandolin and Guitar 1924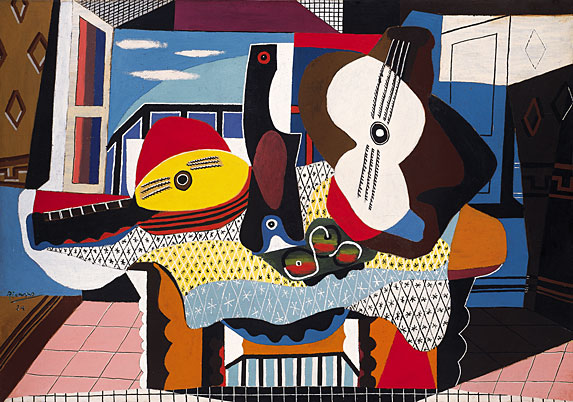 36.Pablo Picasso – Studio with Plaster Head 1925
37.Pablo Picasso – Three Dancers- 1925
38.Pablo Picasso – Seated Woman 1927
39.Pablo Picasso – Painter and Model 1928
40.Pablo Picasso – Large Nude in Red Armchair 1929
41.Pablo Picasso – Crucifixion 1930
42.Pablo Picasso – Seated Bather 1930
43.Pablo Picasso – Girl Before a Mirror 1932
44.Pablo Picasso – Minotauromachy 1935
45.Pablo Picasso – Straw Hat with Blue Leaves 1936
46.Pablo Picasso – Guernica 1937
47.Pablo Picasso – Weeping Woman with Handkerchief 1937
48.Pablo Picasso – Still Life with Steers Skull 1942
49.Pablo Picasso – The Charnel House 1944-45
50.Pablo Picasso – Femme Date Unknown